Cash For Trucks - same day service
Cash for trucks offers top dollar - earn up to $9,999 instant cash
Sometimes it is no longer practical to repair your old truck, and it is a good idea to get some cash for your truck. Trucks are large and the cost for fixing the truck can exceed the potential resale value, and in such cases, it is better to get cash for your damaged truck using our trucker wrecker services and earn top dollar.
Cash for trucks offers top dollar on Sydney wide truck disposals for all major suburbs, so selling your truck can be done at the comfort of your home. Get a hassle-free experience of removing your truck from your garage and take advantage of the cash offers you may receive from the disposals.
At My Car Removal services we specialise in removing, buying and recycling old unwanted trucks, all at the same time as we offer competitive prices for all types of trucks. You might ask, just how convenient can selling your truck get? Request a quotation or call us today and earn up to $9,999 instant cash on your scrap truck.
As Truck buyers and experienced removal company, we frequently scrap all kinds of vehicles such as cars, trucks, 4WD, SUVs, Utes, Vans and Jeeps of any make or model or condition of the vehicle. For more information contact us today to get a Free quote on your Truck and use our Free towing services.
You have a busy schedule, so the last thing you need is to be forced to wait at home for extended appointments and be exposed to professionals who are just not on time.
At My Car Removal, we work around whatever is convenient to you so that you can go about your day without waiting for us. We prioritize your time, and we show that with our dedication and effort.
Our same day services guarantee that from the time that you we agree on the final quotation, you will receive your cash and will completely be rid of your truck. Our team goes through each step of the process, from the initial quotation, inspection, towing, and final payment, that you take the least amount of stress. To further help you with it, we even take care of the paperwork, so you don't have to worry about anything after the truck is removed.
No REGO, Dead or Alive, We buy all kinds of CARS, VANS, TRUCKS, UTEs and 4WD
We are proud of the excellent customer service experience that are customers have had with us and we work hard to extend those same standards to all our customers. We prioritise the time you spend using our services, and that's why we ensure that we get right to the point without wasting any of your time or money.
We ensure professional and friendly services from our team, right from the initial phone quotation that we give you, to our tow truck team who will pick up your car. Our entire team at My Car Removal prioritise you and will answer any question that you may have about our Cash for Truck services.
Getting the right value for your truck can be tough sometimes, as other services out there can make large promises and leave you empty handed at the end of the day. At My Car removal services, we maintain a policy of complete transparency with our quotation, which means there are no hidden charges or extra fees.
We offer up to $9,999 in cash for a range of trucks, vans, 4WD, ute and unused cars.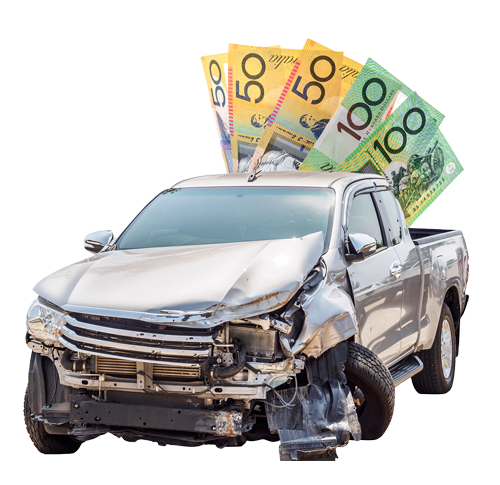 Schedule same day pickup for all kinds of vehicles; Sedans, SUVs, Ute, 4WD, and Jeeps. Complete the form and get a free quote on the phone.
⭐️ ⭐️ ⭐️ ⭐️ ⭐️ 5 Star Reviews on Google
"Very quick and easy to deal with My Car Removal NSW .Prompt on time, took the car and made me the prompt payment. The tow truck driver was also very pleasant and courteous.Would happily recommend My Car Removals NSW."
"Super fast pick up and prompt payment! very very friendly service from the office to the tow truck! 10/10 recommend to anyone looking to get rid of their old car 😊"